Natural gas is a commodity, so the price customers pay is bound to fluctuate. Eastward Energy has taken several measures to ensure a reliable supply of stable and affordable natural gas. These measures will enable Eastward Energy to reduce the variable and more volatile commodity portion of the delivered natural gas cost and replace it with fixed and more stable transportation and storage contracts.
Where does our natural gas come from?
North America has enormous supplies of natural gas. While Nova Scotia's offshore natural gas supplies have been discontinued, our province is connected to natural gas transportation grids that give us access to more than 100 years of reserves[1]. The natural gas we use in Nova Scotia comes from 2 main regions (see map):
The Utica and Marcellus region in the Northeast U.S.
Western Canada. Alberta and B.C. produce 97% of Canada's natural gas.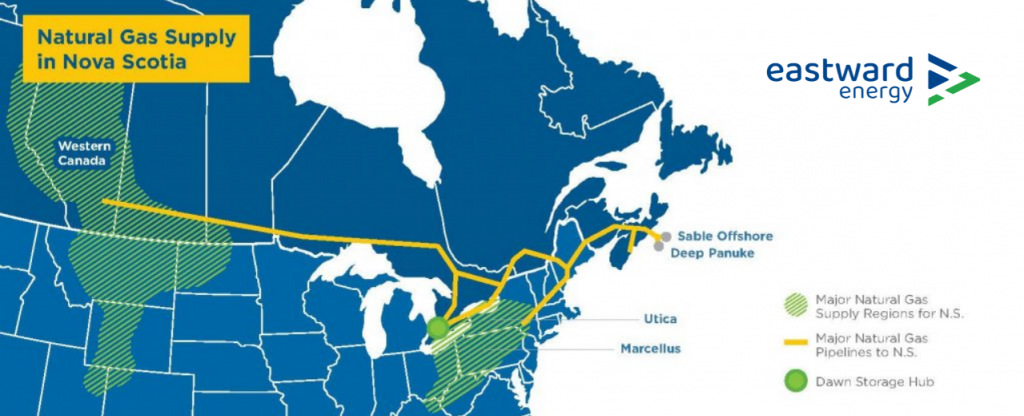 ---
How does natural gas get to Nova Scotia?
Canada is part of a fully integrated North American natural gas market where natural gas flows across provincial and international borders from supply basins to markets. Most natural gas is transported by networks of pipelines from natural gas wells to processing plants, then to Canadian customers and distribution companies like Eastward Energy.
We have entered into long-term transportation contracts to bring natural gas to N.S. from other regions of North America. The Nova Scotia Utility and Review Board (NSUARB) approved a 22-year contract on the Portland XPress (PXP) project to transport natural gas from the Dawn Hub in Ontario to the Eastward Energy distribution system in Nova Scotia. The Dawn Hub – one of North America's most liquid natural gas trading hubs – is strategically located in southwestern Ontario, providing direct access to North America's major supply basins, including abundant and affordable natural gas supplies in the Utica and Marcellus regions.
Eastward Energy has also signed a 20-year contract with Alton Natural Gas Storage, located near Stewiacke, N.S. that will lower natural gas prices by enabling us to purchase gas from other regions, transport it to Nova Scotia and store it in the summer when prices are lower. Gas will be extracted from storage in the winter to offset higher-priced winter gas. Natural gas storage will also improve utilization of long-term transportation contracts by increasing the volume of natural gas flowing to Nova Scotia in the summer and reducing the volume in the winter. The ability to store natural gas in Nova Scotia is expected to result in a 15-20% savings for Eastward Energy customers.
How does this change my bill?
Before November 2018, the natural gas cost reported on customer bills included the cost of the natural gas and the cost to transport it to the Eastward Energy distribution system. Bills issued after November 1, 2018 report a portion of the transportation cost separately.
[1] Nova Scotia Department of Energy and Mines: https://energy.novascotia.ca/oil-and-gas/consumer-natural-gas
Back to News