To help reduce greenhouse gas (GHG) emissions now and in the future, the Canadian federal government announced that all Provinces and Territories must adopt a carbon pricing program, either a cap-and-trade program or a carbon tax. Both are designed to encourage individuals and companies to reduce GHG emissions by setting a price or cost on emissions. Effective January 1, 2019, Nova Scotians will start paying a carbon charge as part of the new cap-and-trade program implemented by the Provincial government. Under this program the government will set an annual cap on the allowance of GHG emissions (or CO2) each year. This cap will decrease Nova Scotia's GHG emissions over the next several years, as outlined in the chart below.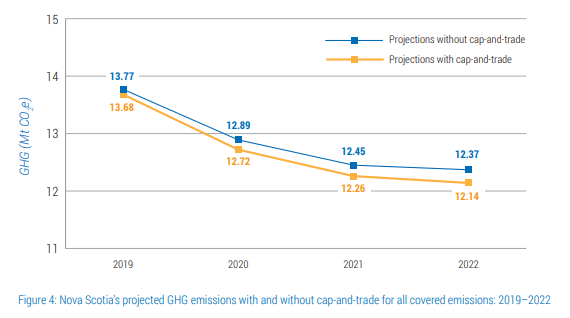 (Source: Nova Scotia's Cap & Trade Program – Regulatory Framework)
WHY DID THIS HAPPEN?
Communities around the world are seeing an increase in climate change related natural disasters like flooding, hurricanes, and wildfires. It is estimated that responding to these devastations is costing taxpayers more than implementing carbon pricing, which is designed to deal with the root cause and reduce the impact of climate change. Over the past several years, Nova Scotia has done significant work to increase our energy efficiency and reduce our GHG emissions, but there is still a lot of work to be done.
WHAT DOES THIS MEAN FOR ME?
Adding a price to carbon means consumers will pay more for electricity and fossil fuels, like oil, propane and natural gas. Fuels that have a high carbon intensity (i.e. emit more GHG emissions), such as oil, will have a higher carbon price and those which have a lower carbon intensity such as natural gas, will have a lower carbon price. The money collected from the cap-and-trade program will be allocated to the Green Fund. This fund will be used to support a wide range of measures to reduce GHG emissions, mitigate social and economic impacts or adapt to the impacts of climate change. In 2019 the province will determine the potential uses of the revenue in the Green Fund.
Estimates based on energy price in first four years (2019-2022 in nominal dollars).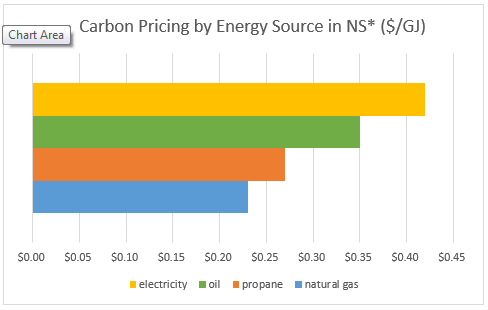 (Source: Nova Scotia's Cap & Trade Program – Regulatory Framework)
WHAT ROLE DOES NATURAL GAS PLAY?
Natural gas has the lowest GHG emission intensity of all fossil fuels, including electricity generation in Nova Scotia. The cost of carbon will be lower for natural gas than any other fossil fuels. Below is a chart outlining the main sources of GHG emissions in Nova Scotia. Natural gas will play an important role in continuing to reduce our carbon footprint in Electricity and Heat Generation, Transportation and Commercial and Residential Heat.
(Source: Nova Scotia's Cap & Trade Program – Regulatory Framework)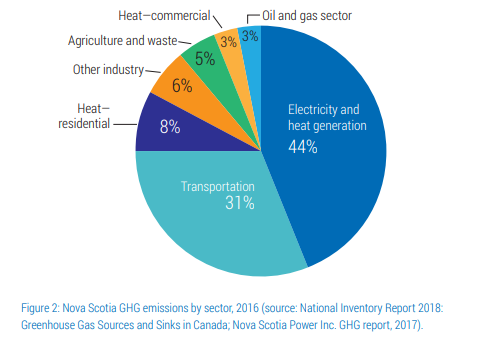 HOW CAN WE ALL PLAY OUR PART?
The Province of Nova Scotia has outlined ways we can reduce our energy usage, including making the switch to a less carbon intensive energy source such as natural gas. Visit Climate Change Nova Scotia to see the complete list of actions you can take to help fight climate change.
Back to News